The Port

Forum Julii, the original port which is now Frejus, was constructed around 43 BC on the orders of the Roman Emperor to be, Octavius Augustus. The Romans chose their location well, as Port Frejus is situated at the apex of the attractive Frejus bay that extends from St Raphael to St Aygulf.
The modern port was constructed around 15 -20 years ago as a purpose-built marina and residential complex and comprises a yacht basin accommodating sailing and power boats ranging in length from 12 feet to 60 feet surrounded by residential appartment blocks with numerous restaurants and leisure businesses.
The port provides an ideal place to relax away from the bustle of the main town and engage in 'boat watching' as crews clean, repair and prepare their boats for a trip on the Med.
If engaging more closely with the sea appeals during the season there are boat trips to the attractive harbour of St Tropez, where the seriously rich moor their yachts.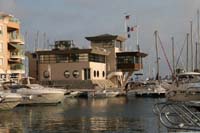 Parascending is on offer in the bay and there are a couple of diving schools operating from the west side of the port. Power boats can be hired from here as well, but to hire those with a respectably sized engine renters will first need to have passed a short course in boat handling.